Product Description
Buy locks we should pay attention to what?
First, according to the application options:
1, household drawers, cabinets, diaries, lockbox zipper (also optional packing tape), backpack zipper, etc., is recommended for small and medium number.
2, the warehouse door, safe, and other security-conscious, you can select the lock lever coarse, large models of locks. Rainbow lock 206, lock turntable 209, helium and large are all good choices.
3, travel abroad, is naturally choose customs filing tsa lock.
4, electric cars, motorcycles, mountain bikes, cars, etc., select transportation lock, transportation lock must be noted that the material must be anti-cut, anti-clamp, anti-twisting was safe
5, the couple husband and wife concentric lock, optional lock love marriage money.
Second, we must pay attention to two specifications:
1, pay attention to the thickness of the lock lever.
2, pay attention to the lock lever around, the distance between the top and bottom.

Product detail show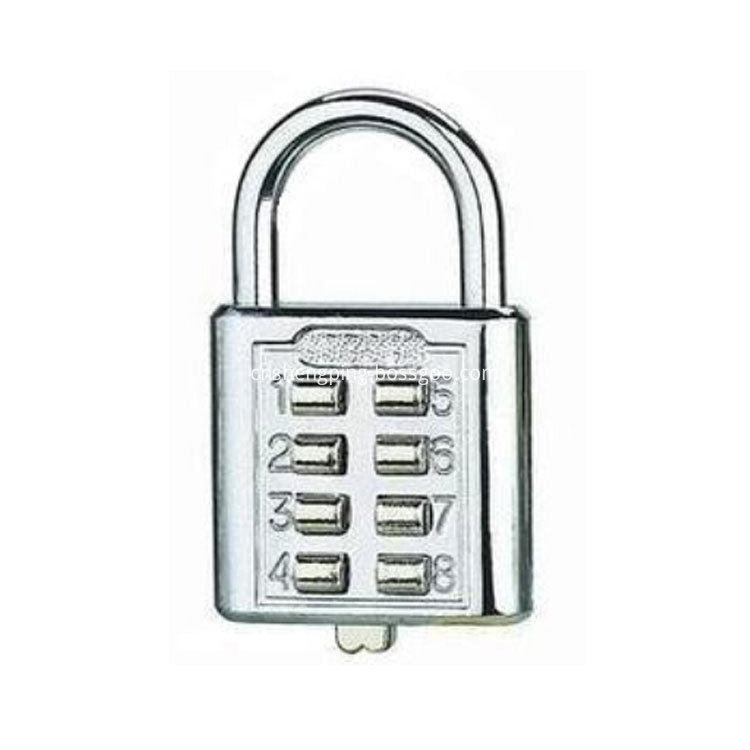 This lock password has been set, each lock has a separate and unique life change passwords, so to remind, do not forget it's the ID password. It is recommended to save a good card Oh!
(1) According to your lock ID code number to push this figure.
(2) Move the lock button below.
(3) The latch will automatically open

Shut methods
(1) Press the latch
(2) back in to each number.

This product is all-metal locks, the main raw material of high quality zinc alloy, chrome plated lock body, fastness strong. This lock looks beautiful, cheap, durable, suitable for a broader
Password
◆ This product can not be set, just press the corresponding password, and then move to open the key to open.
◆ This product can be locked drawers, boxes, doors, luggage and so on.
◆ When you want to go out or leave the work site on the lock, carrying keys is too much trouble, but lost key one is embarrassed. With it eliminates the need for unnecessary trouble.
◆ solid metal system can be firmly locked in your private space, valuables, doors and windows, is that you go out or leave the security of the necessary right-hand man!
Lock maintenance tips
A good lock can with our lives, but as even the best pearls, also has yellow of the day, then good lock, also retired at that moment. How can we make life as long as possible lock it?
1, often open: manufacturing locks to act as anti-theft, all high-density, high hardness of the metal as a raw material, will inevitably bring rust problems. If the external rust, at best affect the appearance, if internal rusting, we might have hit parts of the lock. Locks saved using, should avoid the wind and rain, often open.
2, cartridge Lubrication: Jiubu open locks, if internal rusting, find a pencil, cut the foam into the hole in the refill point before attempting to open, several times down on the smooth more. (Graphite pencil refills, smooth texture, a strong lubricating effect)