Product Description
Knowledge Edit
Starting in January 2003, TSA requires all airport baggage entering the United States must be opened for inspection, but TSA issued a warning: unless TSA certified locks, or do not otherwise be checked baggage unlocked or destroyed by customs have the right to pry check luggage locks.
TSA locks open in two ways: one is the lock itself with some key consumer or set their own password, the other is dedicated to key customs, customs hand has a TSA lock key.
This lock both sides must have a red diamond logo, customs they see that sign, you know you want the keys to unlock (lock the bottom indicate the corresponding number keys), but not pry damage.
TSA rigorous training of customs inspectors, to be very careful when you open the baggage inspection to ensure safety, but also to re-lock after checking luggage.
TSA locks in the United States also can be used outside.
PRODUCTION DESCRIPTION
Material: zinc alloy
High security
Size: 58*28*4mm
Packaging: Color box, skin packaging, double blister
Place of origin: Yiwu, China
Supply capacity: 400,000 pieces per month
Price terms: FOB, Ningbo
Delivery lead time: 30 to 35 days after sample approval and receiving the bank transfer
Travel Sentry Approved Locks
Travel Sentry Approved Locks and Luggage enable airport security officers to open luggage for physical inspection when required without the need to cut off or break open locks.
The color can be customized.
Logo printing is acceptable.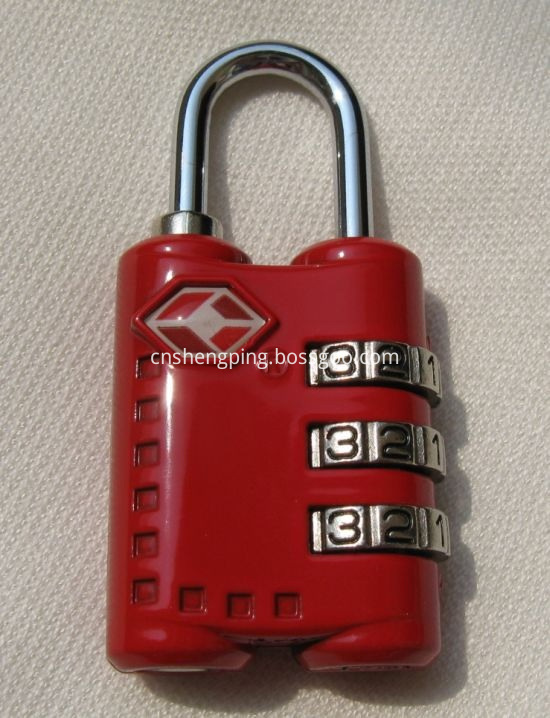 HOW TO USE
The original number is 0-0-0. To set your own combination, please follow these easy steps:
1. Pull up the shackle to open the lock.
2. Rotate the shackle 90° counterclockwise and press shackle into the hole. Hold down and continue to turn another 90° counterclockwise.
3. Set your own combination by turning dials.
4. Turn the shackle back as normal. Then the setting is completed.
To reset a new combination, please repeat step 1 to 4 above. Please remember your new combination.
OUR SERVICE
1. Customer first,we will try our best to make you satisfaction.
2. We will inspect each product before delivery.
3. High quality, Best Service, Reasonable Price, Timely Delivery.
4. Timely Communication and E-mails will be replied within One Day or even faster.
5. Prompt reply and credible after-sale services.
6. Please contact with us when you get the parcel if there was damage, We will deal with it soon.
FAQ
Why choose us ?
Our advantages:
1. Shengping Craft Locks Factory is a manufacturing firm,mainly produce combination locks, luggage straps,travel sets,
TSA locks,TSA straps, locating in the world`s largest commodity trading city-Yiwu. You can find us from Alibaba, Global
Sources and even in Wechat.
2. We accept big orders, but small orders are welcome as well. With daily production capacity of 30K-40K pcs,we can
ensure the on-time delivery for the customized orders. Besides, we regularly keep 5K-10K stock for almost all designs,
so there will be no problem if you want to order in small quantity. We accept OEM orders with MOQ of 1K sets.
3. Our products are competitive as we focus on extraordinary products. We look for reasonable profit and provide reliable
products. There are ways to make extremely low prices, such as not picking out rejects, using worse materials, which might
be used by competitors, but will never be accepted by us. We double check our goods to ensure every locks received by customers
function well, and function long enough.
4.Payment Terms: We accept Online Bank Transfer, Alipay, PayPal. For oversea orders TT or L/C is preferred.
5. Shipment ways: We usually do FOB to Ningbo Port or Shanghai Port by sea, and shipping by express or air transportation
are workable too.
6. Warranty: There may be few rejects in your goods, and we are willing to replace them once you find. But it must be stated
that forgetting password will not be counted as product failure.